Dealer Login
Restricted area for registered NIOA Commercial dealers.
Bullets

Swift Bullets
SWIFT BULLETS BREAK AWAY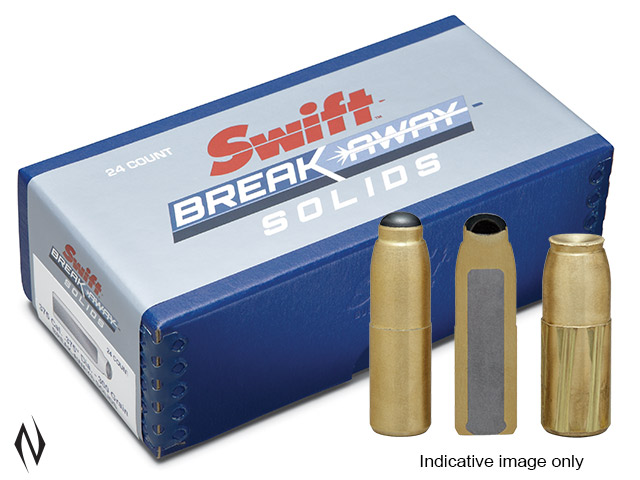 Break-Away Solids will be available in 9 different calibers, from 9.3mm through 500 cal. For the past two years it has been in development and has hunted dangerous African game, with outstanding results. It has been extensively field tested, with many hunters and PH's throughout Africa.
The polymer tip provides flawless magazine feeding and Breaks-Away upon impact. The cavitated front end provides a perfectly straight wound channel. The proprietary metal, a rebated ogive, a short driving band, and a lead core, all make the Break-Away Solid very gentle on barrels.
This is the most well tested, thought out solid ever developed.
Variations
| Item Code | Description |
| --- | --- |
| SWBA375300 | SWIFT BULLETS 375 300GR BREAK AWAY 24PK |
| SWBA400400 | SWIFT BULLETS 400 400GR BREAK AWAY 24PK |
| SWBA404400 | SWIFT BULLETS 404 400GR BREAK AWAY 24PK |
| SWBA416400 | SWIFT BULLETS 416 400GR BREAK AWAY 24PK |
| SWBA458500 | SWIFT BULLETS 458 500GR BREAK AWAY 24PK |
| SWBA470500 | SWIFT BULLETS 470 500GR BREAK AWAY 24PK |
| SWBA505570 | SWIFT BULLETS 505 570GR BREAK AWAY 24PK |
| SWBA510570 | SWIFT BULLETS 510 570GR BREAK AWAY 24PK |
| SWBA93286 | SWIFT BULLETS 9.3 286GR BREAK AWAY 24PK |

Back to Swift Bullets