Dealer Login
Restricted area for registered NIOA Commercial dealers.
Unprimed Cases

Starline
STARLINE BRASS 30-30 WIN 50PK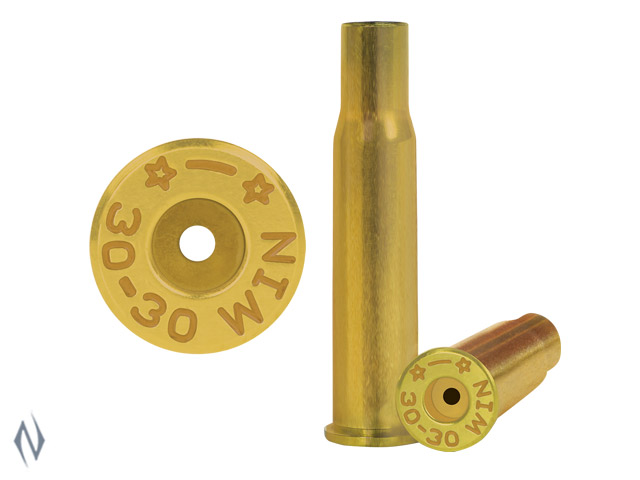 AKA .30 WCF 2.027 - 2.033 O.A.L.
Large Rifle Primer
Introduced in early 1895 for the Winchester Model 1894 lever-action rifle, the .30-30 was the USA's first small-bore, sporting rifle cartridge designed for smokeless powder. Jacketed bullets for the .30-30 are .308 inches in nominal diameter. Cast lead bullets for the .30-30 are also popular and usually are .309 inches in diameter.
The .30-30 is considered to be the "entry-class" for modern big-game hunting cartridges. While it is very effective on deer-sized and black bear-sized game, most commercial loadings are limited in effective range to about 200 yd for that purpose, except when using ballistic-tip ammunition.
The cartridge is typically loaded with bullets weighing between 150 and 170 grains but lighter loads are possible. Bullets of up to 180 gr can be used, but the overall length restrictions of the lever-action rifles most commonly chambered for this round limit their usefulness.
Starline prides itself on producing the highest quality brass case available. With a production process focused on quality not quantity, Starline makes the finest brass and has done for more than 30 years.
Product Details
| Item Code | Description |
| --- | --- |
| SL3030 | STARLINE BRASS 30-30 WIN 50PK |

Back to Starline