Dealer Login
Restricted area for registered NIOA Commercial dealers.
Outers

Specialty Kits - Aluminium
OUTERS UNIVERSAL CLEANING KIT 62 PIECE IN PLASTIC CASE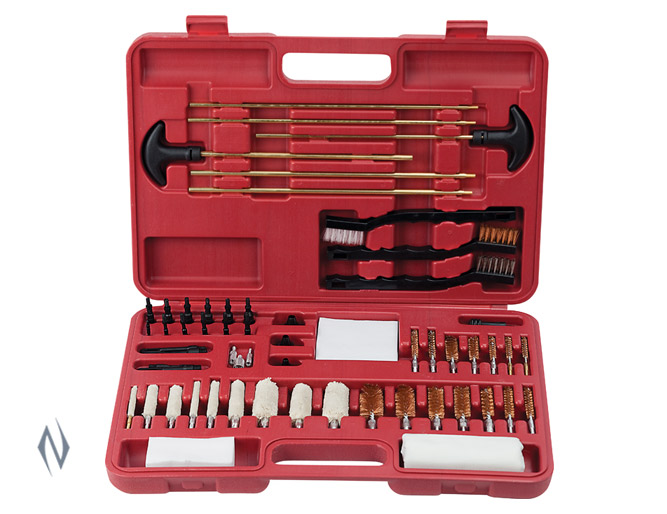 The Outers 62 Piece Universal cleaning kit has everything you need to clean practically any gun you own. It comes in a sturdy plastic storage case and has specific slots and compartments to keep everything organised. In addition there are spare compartments to hold bottles of gun cleaning chemicals or any other gear you want to keep nearby.
Features:
Hard-plastic, durable, latched case in traditional Outers' maroon color
Universal components to cover cleaning duties for a large variety of firearms
Strong, solid brass rods with high-quality tips, mops, brushes and patches
Different sized compartments for convenient and organized access
Kit includes:
Latched hard plastic storage case with handle
Built-in custom parts organizer
Additional compartments to hold bottles of gun-cleaning chemicals
3 Solid brass rods for 17-270cal rifles and pistols
3 Solid brass rods for 30cal and larger rifles, pistols shotguns and muzzleloaders
14 Bronze brushes to fit: 17, 20/204, 22 pistol, 22 rifle, 243-25/6mm, 6.5mm, 270/7mm, 30/8mm, 38-357/9mm, 40-45/10mm, 410ga, 20/28ga, 10/12ga, 50, 54
9 Mops to fit: 17, 22-25/6mm, 6.5mm, 270-30/7mm, 8mm, 38-357/9mm, 40-45/10mm, 410ga, 20/28ga, 10/12ga, 50-54
13 Spear pointed brass Jags to fit: 17, 22, 6mm, 25/6.5mm, 270/7mm, 30-32, 338/8mm, 35/9mm, 375, 40, 44, 45, 50
4 Slotted patch loops to fit: 22, 30, 410-20/28ga, 10/12ga
3 Utility brushes
3 Muzzle guards to fit: 17, 22, 30
3 Accessory adaptors for rifle, pistol, shotgun and muzzleloader
50 Cleaning patches: 3" x 1.5"
50 Cleaning patches: 3" x 3"
4 Polishing cloths
Product Details
| Item Code | Description |
| --- | --- |
| OUT70074 | OUTERS UNIVERSAL CLEANING KIT 62 PIECE IN PLASTIC CASE |

Back to Specialty Kits - Aluminium