Dealer Login
Restricted area for registered NIOA Commercial dealers.
Lightforce

Rifle/Shotgun Mounted Lights
LIGHTFORCE SCOPE / SHOTGUN MOUNT 170 STRIKER 7"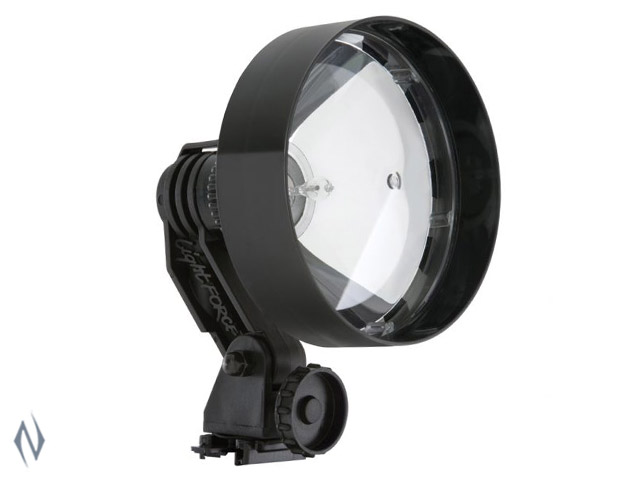 The use of a firearm mounting system enables the hunter independence, no longer relying on someone else to 'hold' the spotlight.
Quick target acquisition is assured! No more frustration of the light source being moved off the target, as you are about to take the shot!
Other systems offer very poor light output and cannot handle the recoil of large calibre rifles or shotguns. The Lightforce feature packed system is the choice of experienced shooters worldwide.
The Lightforce firearm mounted lights mount onto rifles or alternatively, shotguns. Supplied complete with an inline switch, Velcro fastener and coil cord with cigarette plug, the lights can be interchanged to allow to be mounted to both rifle scope and the barrel of a firearm, be it a 12G shotgun down to a small rifle diameter.
The unique recoil absorption system compensates for the heavy recoil associated with shotguns and large calibre rifles, returning the light to the original position of alignment after each shot.
A quick attach and detach system provides easy removal and replacement of the light onto different rifle scopes and barrels within seconds. The unique snap catch system locks the light onto the mount simply by depressing the lever on the snap catch carrier. By lifting the lever the light can be instantly removed.
Features:
NH140 - 75W
NH170 - 100W
Supplied with both mounting options, universal scope/shotgun mounts are included in the box, packed with the lights
Lightweight unit will not unduly affect firearm balance or point of impact unlike other top heavy systems
Unique recoil absorption system capable of dealing with large calibres for unrivalled versatility
Snap catch system – Attach or detach in seconds
Inline switch, coil cord with cigarette lighter plug for easy connection to vehicle or the Lightforce battery pack system
Interchangeable between shotguns and rifles
Velcro fastener for securing switch to stock
Product Details
| Item Code | Description |
| --- | --- |
| NH170 | LIGHTFORCE SCOPE / SHOTGUN MOUNT 170 STRIKER 7" |

Back to Rifle/Shotgun Mounted Lights