Dealer Login
Restricted area for registered NIOA Commercial dealers.
Laugo Arms

Alien Pistols
LAUGO ARMS ALIEN TARGET 9MM 152MM 10 SHOT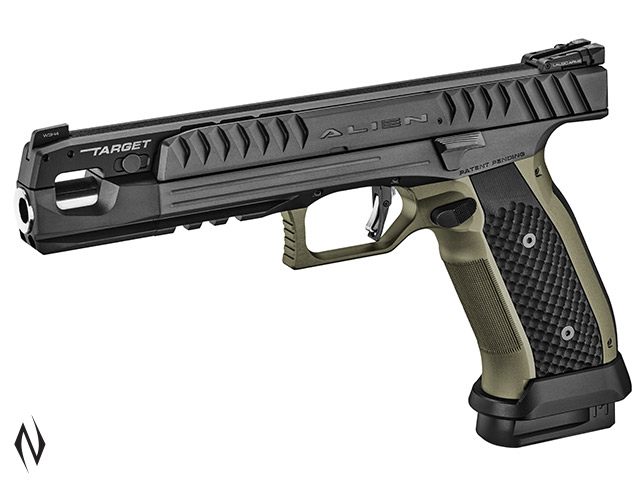 The Alien pistol can be extremely easily adopted for different purposes. With just one click a shooter can change the nature of the Alien pistol by changing the upper part of the slide. There are different slide rails available for iron sights, many types of red dot sights, or even a MIL-STD-1913 rail. Moreover, Alien can be equipped with an open division kit, that includes compensator, open division upper slide rail, magwell and other optional upgrades.
The shooter gains the advantage from perfect target acquisition. This has been achieved by permanent line of sight which, unlike the old school pistols, does not reciprocate during the fire cycle. Thanks to this feature the shooter can easily control the target all the time even when rapidly firing as he will never lose the line of sight. Red dots will last much longer on the Alien pistol due to the non-reciprocating upper part of the slide. On most pistols the movement of the slide damages the red dot which results to constant need of replacement. The red dot on Alien pistol will last the same as on the standard SMG or rifle – the way it has been designed to work.
Alien pistols are more accurate. This effect is caused by the permanently fixed barrel to the frame. As a result, the barrel does not move during the fire cycle and can free float like on a sniper rifle. It also cycles via a gas operation system with delayed blowback. That altogether with precise manufacturing contributes to the exceptional accuracy of this firearm.
Every shooter is faster with the Alien pistol. This is due to the lowest bore axis in the world. Bore axis is located just 1.7cm under the axis of shooters grip. As a result, the pistol practically does not elevate after the shot and has almost flat recoil angle and no muzzle flip.
Product Details
| Item Code | Description |
| --- | --- |
| ALIEN6T | LAUGO ARMS ALIEN TARGET 9MM 152MM 10 SHOT |

Back to Alien Pistols