Dealer Login
Restricted area for registered NIOA Commercial dealers.
Unprimed Cases

Lapua Unprimed Cases
LAPUA UNPRIMED BRASS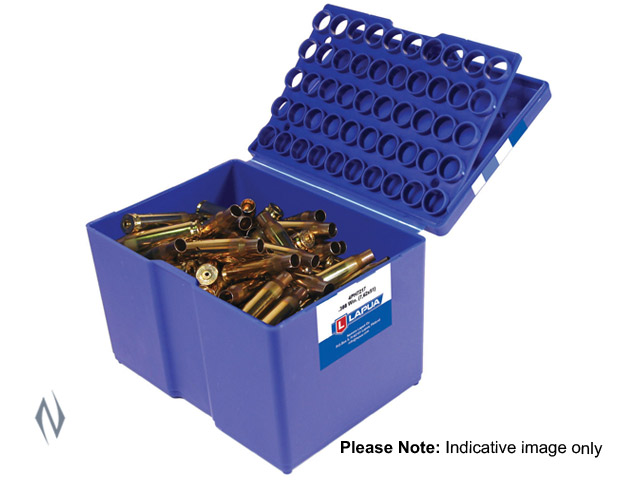 The Lapua match case is produced with very tight tolerances including neck concentrity, base straightness and wall thickness. Consistent quality guarantees consistent results. The large case volume ensures high velocity potential. Strong case construction, optimised strength and grain structure in the metallurgy allows for multiple reloading cycles.
Lapua cases are the best in the world. The base, body and neck of Lapua cases have been designed to maintain exact tolerances over multiple reloading cycles. Advanced metallurgical research and manufacturing techniques ensure that Lapua cases are leaders in uniformity and quality.
Variations
| Item Code | Description |
| --- | --- |
| 4HH8021 | LAPUA BRASS 32 S&W LONG 1000PK |
| 4PH5001 | LAPUA BRASS 22-250 REM 100PK |
| 4PH5002 | LAPUA BRASS 222 REM 100PK |
| 4PH5003 | LAPUA BRASS 223 REM 100PK |
| 4PH5013 | LAPUA BRASS 220 RUSSIAN 100PK |
| 4PH6009 | LAPUA BRASS 243 WIN 100PK |
| 4PH6010 | LAPUA BRASS 6.5X47 LAPUA 100PK |
| 4PH6011 | LAPUA BRASS 6.5 CREEDMOOR SRP 100PK |
| 4PH6012 | LAPUA BRASS 6.5X55 100PK |
| 4PH6013 | LAPUA BRASS 6.5 CREEDMOOR LRP 100PK |
| 4PH6020 | LAPUA BRASS 6.5 GRENDEL 100PK |
| 4PH6022 | LAPUA BRASS 6MM CREEDMOOR 100PK |
| 4PH6023 | LAPUA BRASS 6.5 PRC 100PK |
| 4PH6030 | LAPUA BRASS 6.5X284 100PK |
| 4PH6046 | LAPUA BRASS 6MM BR NORMA 100PK |
| 4PH6050 | LAPUA BRASS 260 REM 100PK |
| 4PH7068 | LAPUA BRASS 30-06 SPR 100PK |
| 4PH7074 | LAPUA BRASS 7.62 X 39 100PK |
| 4PH7090 | LAPUA BRASS 300 NORMA MAG 100PK |
| 4PH7095 | LAPUA BRASS 7MM-08 100PK |
| 4PH7096 | LAPUA BRASS 300 WIN MAG 100PK |
| 4PH7098 | LAPUA BRASS 300 PRC 100PK |
| 4PH7105 | LAPUA BRASS 7X64 100PK |
| 4PH7107 | LAPUA BRASS 7X65R 100PK |
| 4PH7215 | LAPUA BRASS 7.62 X 53R 100PK |
| 4PH7217 | LAPUA BRASS 308 WIN 100PK |
| 4PH7226 | LAPUA BRASS 308 WIN PALMA 100PK |
| 4PH7284 | LAPUA BRASS 284 WIN 100PK |
| 4PH8030 | LAPUA BRASS 8X57 IS 100PK |
| 4PH8031 | LAPUA BRASS 8X57 IRS 100PK |
| 4PH8068 | LAPUA BRASS 338 LAPUA 100PK |
| 4PH8090 | LAPUA BRASS 338 NORMA MAG 100PK |
| 4PH9050 | LAPUA BRASS 9.3 X 62 100PK |

Back to Ammo & Components