Dealer Login
Restricted area for registered NIOA Commercial dealers.
Unprimed Cases

Federal Unprimed Cases
FEDERAL UNPRIMED BRASS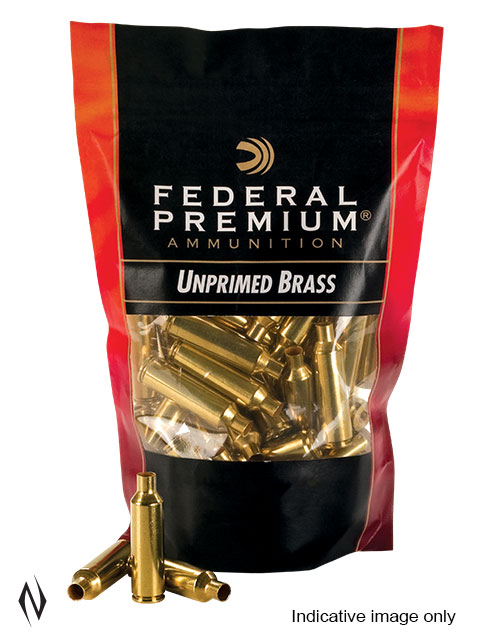 Reloaders who insist on the best trust Federal Premium brass cases. The company has been producing the industry's finest brass since the early 1950s, when the first centrefire rounds rolled off its machines, and the tradition continues today.
Federal Premium now offer a wide variety of unprimed brass for a full range common rifle and handgun cartridges.
Features
Industry's best brass
Precise dimensional tolerances ensure peak accuracy
Consistent volumes produce consistent performance
Case shoulders and necks are annealed for long life and easier resizing
Variations
| Item Code | Description |
| --- | --- |
| FUP223 | FEDERAL UNPRIMED BRASS 223 REM 100 PACK |
| FUP224 | FEDERAL UNPRIMED BRASS 224 VALKYRIE 100 PACK |
| FUP2250 | FEDERAL UNPRIMED BRASS 22-250 REM 100 PACK |
| FUP243 | FEDERAL UNPRIMED BRASS 243 WIN 50 PACK |
| FUP270 | FEDERAL UNPRIMED BRASS 270 WIN 50 PACK |
| FUP270WSM | FEDERAL UNPRIMED BRASS 270 WSM 50 PACK |
| FUP3006 | FEDERAL UNPRIMED BRASS 30-06 SPR 50 PACK |
| FUP300WIN | FEDERAL UNPRIMED BRASS 300 WIN MAG 50 PACK |
| FUP300WSM | FEDERAL UNPRIMED BRASS 300 WSM 50 PACK |
| FUP3030 | FEDERAL UNPRIMED BRASS 30-30 WIN 50 PACK |
| FUP308 | FEDERAL UNPRIMED BRASS 308 WIN 50 PACK |
| FUP338FED | FEDERAL UNPRIMED BRASS 338 FED 50 PACK |
| FUP45 | FEDERAL UNPRIMED BRASS 45 ACP 100 PACK |
| FUP65C | FEDERAL UNPRIMED BRASS 6.5 CREEDMOOR 50 PACK |
| FUP7MMR | FEDERAL UNPRIMED BRASS 7MM REM MAG 50 PACK |
| FUP9MM | FEDERAL UNPRIMED BRASS 9MM LUGER 100 PACK |

Back to Ammunition & Components