Dealer Login
Restricted area for registered NIOA Commercial dealers.
Barrett

Rifles
BARRETT MRAD FIXED BARREL & FIXED STOCK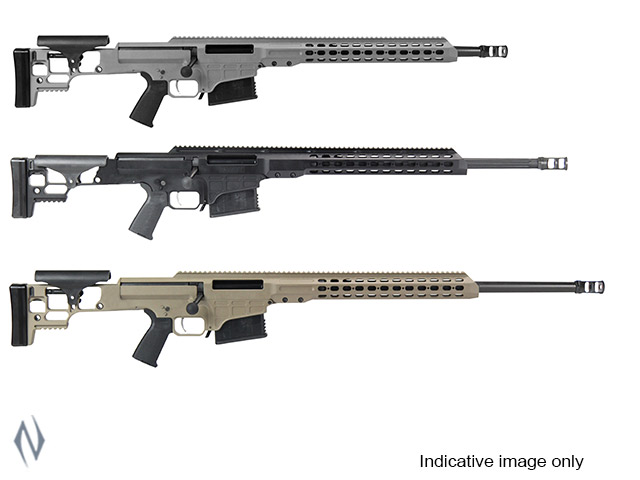 The MRAD SMR (Single Mission Rifle) possesses the legendary Barrett accuracy and build quality of the original MRAD but features a fixed stock and is not compatible with the MRAD calibre conversion platform.
It is available in three chassis colours, three barrel lengths, seven calibres and with its fixed stock it is NSW compliant.
FEATURES
Fixed Stock
Adjustable Cheek Piece
Adjustable Length of Pull
Vertically Adjustable Recoil Pad
Swivel Sling Loop Attachments
Reversable Safety
Ambidextrous Magazine Release
Oversized Trigger Guard
Accepts Most M4/M16 Pistol Grips
Variations
| Item Code | Calibre | Mag Cap |
| --- | --- | --- |
| BARMRADF300N26B | 300 NORMA MAG | 10 |
| BARMRADF300N26FD | 300 NORMA MAG | 10 |
| BARMRADF300N26GY | 300 NORMA MAG | 10 |
| BARMRADF300P26B | 300 PRC | 10 |
| BARMRADF300P26F | 300 PRC | 10 |
| BARMRADF300W26B | 300 WIN MAG | 10 |
| BARMRADF300W26FD | 300 WIN MAG | 10 |
| BARMRADF300W26GY | 300 WIN MAG | 10 |
| BARMRADF30817B | 308 WIN | 10 |
| BARMRADF30817FD | 308 WIN | 10 |
| BARMRADF30817GY | 308 WIN | 10 |
| BARMRADF30824B | 308 WIN | 10 |
| BARMRADF30824FD | 308 WIN | 10 |
| BARMRADF30824GY | 308 WIN | 10 |
| BARMRADF33826B | 338 LAPUA | 10 |
| BARMRADF33826FDE | 338 LAPUA | 10 |
| BARMRADF33826GRY | 338 LAPUA | 10 |
| BARMRADF65C24B | 6.5 CREEDMOOR | 10 |
| BARMRADF65C24FD | 6.5 CREEDMOOR | 10 |
| BARMRADF65C24GY | 6.5 CREEDMOOR | 10 |

Back to Rifles